Pokemon X
Ultimate Pokemon Pokémon
ポケモンx
(Pokemon X)

[[File:

|5 ftpx]]

Basic Information

Types:

Abilities
Wonderful Stat Guard (this prevents the user`s stats from being lowered, the user`s held item from being dropped, and super-effective moves of the user`s type(s))

Height
5 feet tall (??? m)

Gender Ratio
Genderless
0% ♂ / 0% ♀

Breeding
Egg Group
Hatch Time
Undiscovered
Unknown

Body Style

Habitat
Pokémon X is a talking Pokémon that was said to appear in Pokepark: Adventure by Rayquaza, but was instead placed in another game.
Appearance
Pokémon X is a combination of Spiritomb, Sableye, and Shedinja. It has the body of Spiritomb as a head, with the "ears" of Sableye and the "wings" of Shedinja. Instead of Spiritomb`s green orbs, they are replaced by the gem on Sableye`s chest repeated multiple times. He has the arms and legs of Sableye colored, like its head and two sets of ears, similar to Shedinja.
Evolution
Pokémon X can`t evolve whatsoever.
Description
It is a feared combination of Spiritomb, Sableye, and Shedinja that can`t be harmed by any attack. It is very mischevious and deceptive. It dwells in a dark cave that was thought to never exist, or did exist but is invisible to non-ghost types and non-dark type Pokémon. It is said to steal the spirit of whatever it looks at, as well as the spirit of whatever is looking at it when angry. The more crystals in its cave it eats and spirits it absorbs, the more crystal orbs appear on its head, which can light up a cave. It appears to be unable to breathe or move much.
Learnset
It can learn all TMs and HMs.
Sprites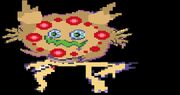 Gallery
Trivia