Birry (フィンチャ (Fincher)) is one of the fictional species of Pokémon creatures to appear in a series by Cascade Gonpory. The purpose of Skarfey in the games, anime and manga, as with all other Pokémon, is to battle both wild Pokémon, untamed creatures encountered while the player passes through various environments, and tamed Pokémon owned by Pokémon trainers.
It is the grass starter for the Fargrove region.
Biological Characteristics
Birry is designed off of a Fincher. It has a Large leaf on it's head to protect it from the sun, and it has sour berries arounds it's neck.
Pokédex
-
In the video games
None as of yet.
Fake Trading Card Game
Birry has only just appeared as a PROMO card and is set to be released in the WHITE RAIN and SHINING GARDEN FTCG set around the middle of 2008 along with all of it's evolutions and the other Fargrove starters.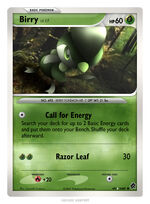 Trivia
Birry is the second grass starter to feature in the White Rain Pokédex, and the second to be non-reptilian or non-dinosaurid, if you take into account that birds are not related to dinosaurs.
Its name is a pormanteux of bird and berry.
References
External links